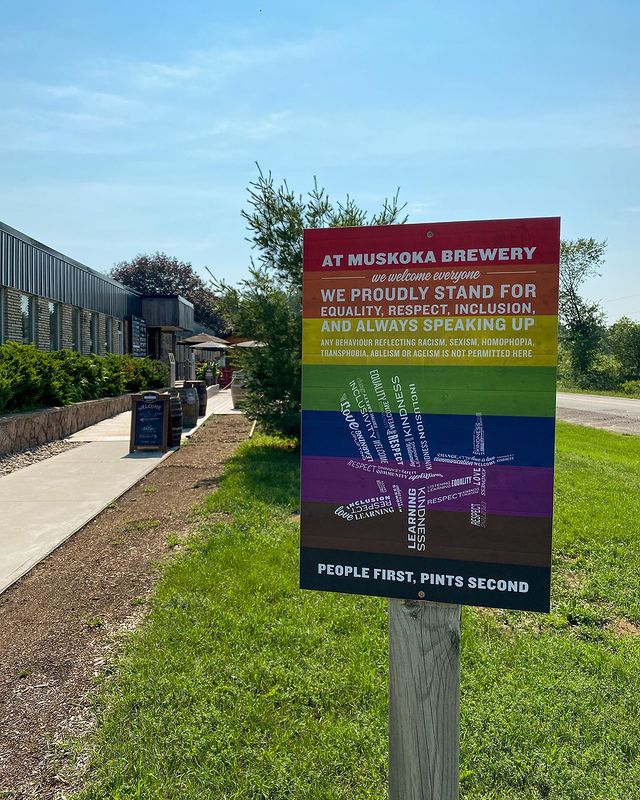 At Muskoka Brewery we welcome everyone. We proudly stand for equality, respect, inclusion, and always speaking up. Any behaviour reflecting racism, sexism, homophobia, transphobia, ableism or ageism is not permitted here. People first, pints second. 
Living Our Brewery Values
At Muskoka Brewery, our set of values are the cornerstone our how we treat each other, represent our brewery, and are the forefront on how we make decisions and our strategic objectives. It is important for all team members to become familiar with our values of Resolve, Authentic, Thirsty, Unique, and Caring, and apply these values into our daily work lives and how we contribute to our three communities (our team, our consumers, our industry).
Best Ethical Practices
For Muskoka Brewery to be successful it will require every one of our team members to act in the best interests of the brewery, in both financial business perspectives but also acting with a high level of ethical behaviour that has the best interests and respect of others as well. We want our team to be comfortable within themselves while working at the brewery and a great and simple rule of thumb is to treat others as you would like to be treated. As well, treat the brewery as if you owned it. Let's care for each other and the brewery.
SAFE SPACES STATEMENT
Welcome to Muskoka Brewery, we're so happy you're here!

In this space we invite everyone, regardless of gender, gender identity, expression, sexual orientation, race, ethnicity, ability, physical appearances, or religion, to feel safe being their authentic selves when spending time here.

We proudly stand for equity, respect, inclusion, and always speaking up.

Should you feel unsafe at any point, we encourage you to connect with a Muskoka Brewery Team Member.

At Muskoka Brewery we work towards bettering ourselves, so we can better serve you. We welcome all guests to reach out to us at safespace@muskokabrewery.com to disclose if you have felt unsafe in this space, or to provide suggestions on how we can become more inclusive. All communication is kept confidential.

We believe everyone should feel safe and respected at our Brewery. By celebrating each other's uniqueness, we offer everyone a seat at our table.
Go on, pull up a Muskoka chair!

EQUITY, DIVERSITY & INCLUSION COMMITTMENT
Purpose
Our most valuable asset is our team. The uniqueness of individual differences, life experiences, knowledge, unique capabilities, and talent strengthens our brewery's innovation, collaboration, and decision-making effectiveness. The investment into a diverse workforce represents a significant part of not only our culture, but our reputation and company's achievement as well.
Muskoka Brewery's Equity, Diversity and Inclusion Program is part of our commitment to providing a safe and dignified work environment for all Team Members, regardless of gender, race, ethnicity, sexual orientation, disability, religion, family status or any other aspect of their identity.
Muskoka Brewery's diversity initiatives are applicable but not limited to our practices and policies on recruitment and selection; compensation and benefits; professional development and training; promotions; transfers; social and recreational programs; layoffs; terminations; and the ongoing development of a work environment built on the premise of gender and diversity equity that encourages and enforces:
Respectful communication and cooperation between all Team Members.
Teamwork and Team Member participation, permitting the representation of all groups and employee perspectives.
Work/life balance through flexible work schedules to accommodate employees' varying needs.
Employer and employee contributions to the communities we serve to promote a greater understanding and respect for the diversity.
Scope & Roles
All Muskoka Brewery Team Members, volunteers, contractors, and vendors are expected to comply with the Diversity and Inclusion Policy. This includes the Strategic Leadership Team and Managers. An inclusive culture is only made possible by buy-in and cooperation from every Team Member, regardless of their role or position.
The Brewery: Muskoka Brewery is committed to foster, cultivate, and preserve a culture of diversity, equity, and inclusion. The Brewery and Strategic Leadership Team will be responsible to educate and build awareness to ensure a safe, fair, and inclusive workplace. When the brewery becomes aware of an incident involving harassment, bullying or discriminatory behaviour, the VP of Community & Culture or an independent third party will investigate the matter fully to ensure proper addressing of the allegations of inappropriate behaviour and ensuring fairness and equal treatment. During such investigation, the accused team member may be removed from the work environment and in extreme cases may be suspended on full pay. A zero tolerance will be applied to any found in violation of this policy.
Team Members: All Team Members are responsible for conducting themselves in a professional and inclusive manner. Should a Team Member become involved in an incident, including witnesses, will be asked to participate in an investigation should the need arise. Team Member's behavior that violates this expectation will result in disciplinary process.
Diversity "We Belong" Committee: The Brewery and senior leadership team will commit to support of a volunteer-based team member committee who will develop grass root initiatives to increase diversity awareness and community contributions and to improve the diversity and inclusion objectives of our team and culture. The committee will also participate in an annual Diversity and Inclusion internal audit to assess the brewery's progress and areas for improvement with a lens on systematic discrimination and culture awareness and inclusion.
People Department: As an active leader and administrator of the Equity, Diversity and Inclusion program, the people department, specifically, the VP of Community & Culture will conduct all investigations and/or lead in the use of a third-party investigator when the need arises. The People department will conduct an annual audit to assess all applicable People programs and investigations have met the policy requirements and seek for improvements.
As Equity and Fairness extends beyond our brewery walls, this program scope will apply to any environment our team members may be exposed, and in representation, of the brewery such as the taproom, event spaces, and other customer/consumer facing interactions. If the brewery becomes aware of contractor, vendors, consumers, or customers, the brewery will be address this behaviour directly with the business or person involved. Contractors and Vendors will be held accountable for their and their staff's actions. If such behaviour persists, the Brewery will remove the employee and/or end the relationship with the business or consumer involved.